Why Do Christians Love To Argue?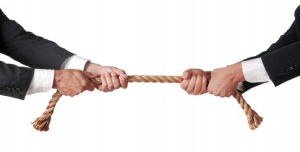 Today we're going to talk about the trinity and why it is the correct Biblical view.  I'm kidding!  I say that because I felt like leading with a good example of what not to say around Christians …unless you're planning on wearing a helmet and shoulder pads.
It's comparable to posting "Barack Obama 2017" on facebook.  You better get ready for the ride of your life!  This all leads to my point today; why do Christians love to Argue?
A few years ago, I worked a pretty tough warehouse job for a metal manufacturing company.  It was a good opportunity to share the light of Christ.  Seeing as how every conversation between the guys I worked with was full of vulgar comments about girls and how hung over they are from the party the night before.
I was excited when a guy from work told me about a new employee we just hired who was also a Christian.  I had to meet this guy.  On my way over to talk to him, my mind was full of thoughts and opportunities for us to work together in sharing Christ's love.
After I introduced myself, I said, "I heard that you were a Christian, so am I."  He looked somewhat pleased and responded with (And I'm not even joking), "Cool.  What do you believe about the trinity?"  I wanted to fake a seizure.  Are you kidding me?!  I was pretty disappointed to say the least.  He was strongly opposed to the trinity and was seriously fishing for an argument.
This story may be an extreme one, but the point is still the same.  So often we like to make a big deal about the minor things of religion, and we loose focus of love, compassion, and Jesus.  Yes, Iron sharpens Iron, but that's a lot different than trying to stab someone in the gut with the intent to kill.  How you say something, and your motivation for saying something, speaks much louder than the things you actually say.
I want to encourage you to be a world changer.  Not someone that sits around commenting and arguing on youtube videos.  I don't know if you've noticed, but people in our own neighborhoods are dying and going to hell!
I can't imagine someone like Billy Graham leaving a comment on a Beth Moore video, saying something about why women shouldn't speak in church.  The best way to change the world is with love.  (That sounded very hippie-ish)
I continue this topic here in Why Some Churches Are Crappy Places To Be.   Agree/disagree?  I want my site to be an example of what it looks like for Christians to talk about issues without someone getting their head slammed on a pew.
Enjoy this post?  Subscribe here for free to be notified when I add new posts!  Also receive the "Free Loop Pack" and "Free eBook as a gift!
Related Posts